NI 9861
  NI 9861

  1-Port Low-Speed NI-XNET CAN C Series Module

  起价RMB 5,330【含税价:6237】

  1-port low-speed CAN interface (up to 125 kb/s) with onboard TJA1054 transceiver, externally powered

  NI-XNET driver for developing frame and signal applications in LabVIEW, LabWindows?/CVI, and C/C++


  Integrated CAN databases for importing, editing, and using signals from FIBEX, .DBC, and .NCD files
  Synchronization and triggering with other NI CompactDAQ and NI CompactRIO modules
  Bundled software: NI-XNET driver, Bus Monitor, and Database Editor for Windows
  In CompactRIO, use in NI cRIO-911x/908x/906x/903x chassis with LabVIEW FPGA installed.
  概览:
  The NI 9861 is a 1-port, low-speed controller area network (CAN) NI CompactDAQ and NI CompactRIO interface for developing CAN applications in NI LabVIEW, NI LabWindows/CVI, and ANSI C/C++. As part of the NI-XNET platform, the NI 9861 works well for applications requiring high-speed manipulation of hundreds of CAN frames and signals. You can perform this manipulation while taking other data acquisition measurements in the same NI CompactDAQ hardware platform or while performing low-level FPGA control and embedded monitoring in the same NI CompactRIO chassis.
 For the NI CompactRIO platform, the NI 9861 works with the cRIO-911x reconfigurable chassis using a cRIO-901x or cRIO-902x controller, or in a cRIO-906x or cRIO-908x integrated chassis.
  The mark LabWindows is used under a license from Microsoft Corporation. Windows is a registered trademark of Microsoft Corporation in the United States and other countries.
  规范概要: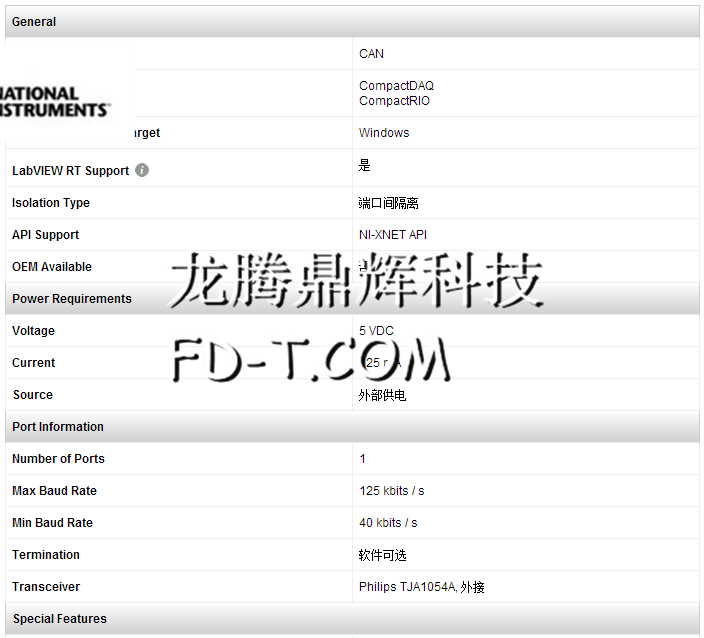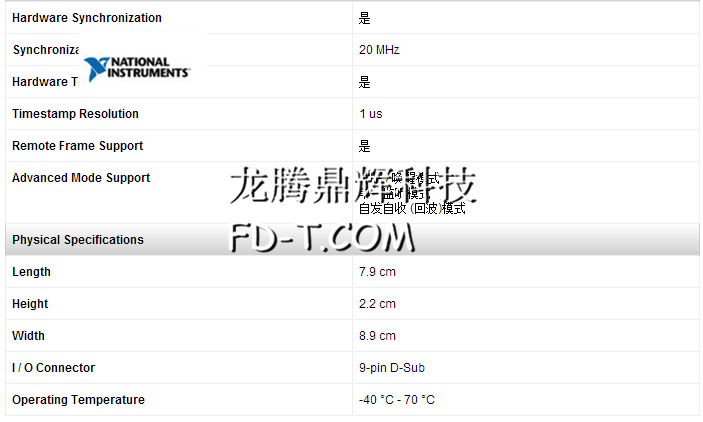 若使用NI 9861,您需配备所有项目。若您已经拥有C系列系统,请选择选项1;若您尚未拥有机箱、控制器或软件,请选择选项2。
  C系列系统
  2 电缆NI 9861机箱控制器软件
  仅NI 9861和附件
  选项1:仅NI 9861和附件
  NI 9861 - 781962-01数量RMB 5,330 /每款【含税价:6237】
  必要附件
  电缆 -
  NI CAN No Termination Cable with Power Terminals, High-Speed/Low-Speed (2m) -782578-02数量RMB 445 /每款【含税价:521】
  修改附件了解所有兼容性附件并获得基于应用需求的配置建议。
  选项2: C系列系统