NI AM-9898
NI AM-9898

  起价RMB 10,945【含税价:12806】

  Supports up to 4 devices in point-to-point mode

  Supports up to 15 devices per channel in multidrop mode

  Up to 80 S/s for 4 mA to 20 mA measurements

  -40 °C to 70 °C operating range


  Download AM 9898 driver from the Resources tab
  The AM 9898 requires LabVIEW FPGA 2011 or later.
  概况:
  The AM 9898, a 4-channel HART master module, allows a CompactRIO system to connect to one device per channel in point-to-point mode or 15 devices per channel in multidrop mode. In point-to-point mode, both the HART digital signal and the 4 mA to 20 mA analog signal can be read. In multidrop mode, devices are connected in parallel and only the digital HART signal can be read since the analog signal is set to a constant 4 mA.
  Built-in resistors allow for easy 4 mA to 20 mA signal measurements along with HART-specific information like calibration and diagnostic information.
  Why HART?
  The superimposed digital HART signal on top of the typical 4 mA to 20 mA analog signal provides additional information like device status, diagnostic data, and additional measured values.
  Certifications: HART and ATEX
  Box Contents
  -One AM 9898 C Series module
  Recommended Accessories
  -One PS-15 for 24 V power supply
  This is recommended to provide power for the HART network.
  -One 100 mH high-current choke sold by DigiKey (P/N M8337-ND)
  This is recommended if you are using more than five sensors in multidrop mode.
  The LabVIEW driver for AM 9898 works with LabVIEW versions 2011 and later and is available for download under the Resources tab.
  Have questions? Check out the Industrial Communications Protocols Discussion Forum under the Resources tab.
  规范概要: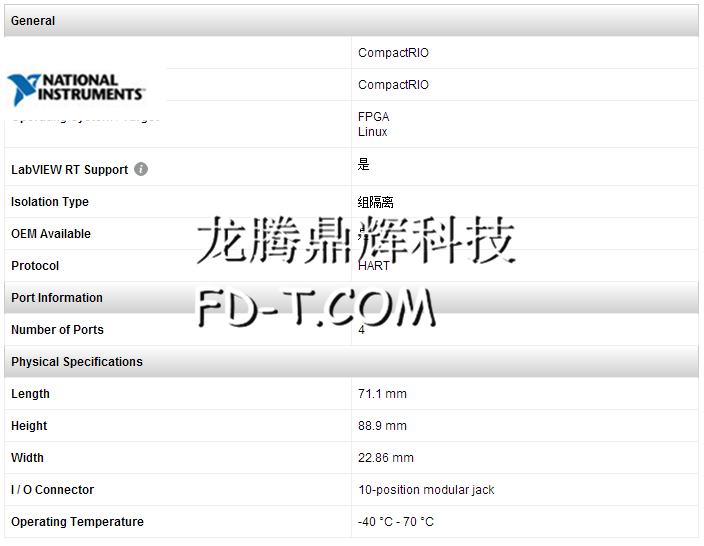 AM 9898
  783073-014 Channel HART Master C Series Module RMB 10,945.00【含税价:12806】
  AM 9898 Accessories
  781093-01NI PS-15 Power Supply, 24 VDC, 5 A, 100-120/200-240 VAC Input RMB 1,615.00【含税价:1890】