NI 9860
  NI 9860

  价格:RMB 4015【含税价:4698】

  2-Port Hardware-Selectable NI-XNET C Series Module

  2-port CAN HS/FD and/or LIN interface with hardware-selectable NI-XNET transceiver cables

  Synchronization and triggering with other CompactDAQ and CompactRIO modules

  NI-XNET driver for developing frame and signal applications in LabVIEW, LabWindows?/CVI, and C/C++


  Bundled software: NI-XNET driver, Bus Monitor, and Database Editor for Windows
  In CompactRIO, use in NI cRIO-911x/908x/906x/903x RT chassis with LabVIEW FPGA installed.
  Requires one NI-XNET CAN/LIN transceiver cable per port.
  概况:
  The NI 9860 is a 2-port, hardware-selectable controller area network (CAN) and/or local interconnect network (LIN) CompactDAQ and CompactRIO interface for developing CAN and/or LIN applications in LabVIEW, LabWindows/CVI, and ANSI C/C++. As part of the NI-XNET platform, the NI 9860 works well for applications requiring high-speed manipulation of hundreds of frames and signals while taking other data acquisition measurements in the same CompactDAQ hardware platform or while performing low-level FPGA control and embedded monitoring in the same CompactRIO chassis.
  NI-XNET: One API, Many Embedded Networks and Form Factors
  The NI 9860 and the NI-XNET platform combines a series of high-performance CAN, LIN, and FlexRay interfaces with the NI-XNET API, a common set of easy-to-use functions for reading and writing frames and signals in many different platforms including PXI, PCI, CompactDAQ, and CompactRIO. By using the same software, development time is significantly reduced through maximum code reuse. Real-time testing applications like hardware-in-the-loop testing and simulation are also ideal for the NI 9860 because it is part of the NI-XNET family of products and has native functionality in VeriStand.
  Carrier Support
  For the CompactDAQ platform, the NI 9860 works with cDAQ-9171, cDAQ-9174, cDAQ-9178, cDAQ-9179, cDAQ-9181, cDAQ-9184, cDAQ-9188, cDAQ-9188XT, cDAQ-913x, and cDAQ-9191 chassis.
  For the CompactRIO platform, the NI 9860 is supported in the cRIO-911x reconfigurable chassis using a cRIO-901x or cRIO-902x controller, in a cRIO-906x or cRIO-903x integrated chassis, in a cRIO-908x (RT only) integrated chassis, or with a sbRIO-9627 or sbRIO-9607.
  The mark LabWindows is used under a license from Microsoft Corporation. Windows is a registered trademark of Microsoft Corporation in the United States and other countries.
  规范概要: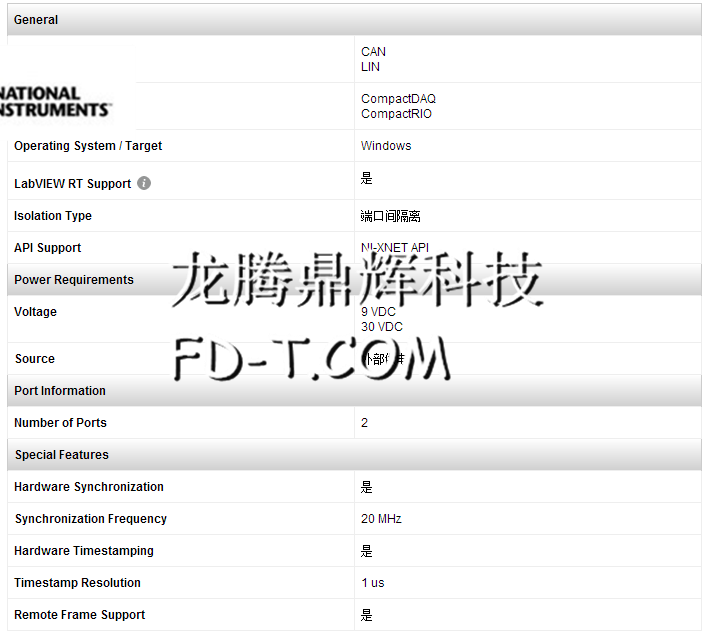 Hardware-Selectable NI-XNET C Series Module
  783703-01 2-Port Hardware-Selectable NI-XNET CAN/LIN C Series Module RMB 4,015.00【含税价:4698】
  NI-XNET CAN and LIN Transceiver Cables
  783699-01 NI-XNET CAN HS/FD Transceiver Cable, RMB 2,740.00【含税价:3206】
  783702-01 NI-XNET LIN Transceiver Cable, RMB 2,740.00【含税价:3206】
  784501-01 NI-XNET Transceiver Cable Mounting Kit RMB 90.00【含税价:106】